Case study: Krause Funeral Homes Connect More Families with a Simplified Live-Streaming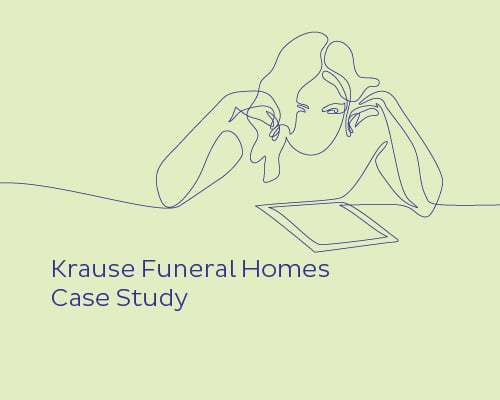 Background
For over 80 years, Krause Funeral Homes and Cremation Services have served the greater Milwaukee region with professionalism, empathy, and a deep reverence for life celebrations. Krause has approximately 80 employees spread across four locations, who are dedicated to serving families both inside and outside the funeral home.
"We want families to feel that their needs are met, that they're cared for," says Jacob Waterworth, manager of operations and funeral director. "They're not just another number to us."
10 years ago, Krause looked into live-streaming solutions. "We jumped into it, but found out the technology wasn't quite there yet," says Mark Krause. The solution at the time was very hands-on and difficult to operate. "We're funeral directors," says Waterworth. "We don't really know anything about video producing."
Krause tried to make this work for about two years before turning to OneRoom for live-streaming and recording capabilities that safely and reliably brought families together, no matter where they were located.
Solution
A Fast, Seamless Rollout
Within weeks, OneRoom was up and running in all four locations with in-chapel cameras, enabling live-streaming and recording capabilities. Unlike Krause's previous live-streaming solution, OneRoom was built into the space and fully automated.
"I thought the two-camera concept was very unique," says Krause, "You can actually view the people that are in the audience, in addition to the casket or the urn, the clergy, and all of those different elements."
Internal buy-in and faultless execution proved critical. Before hitting the green light, Krause made sure to train its team members. "We got our whole staff together and OneRoom ran through everything with us on a web conference," explains Waterworth. "It was pretty simple. Afterward, we wrote up instructions on how we're going to run operations specifically at Krause. Then we handed that information out and haven't had any real issues since."
Results
Renewed Focus on Being Funeral Directors—Not Film Directors
With OneRoom, Krause staff doesn't need to manage cameras, adjust angles, and move equipment.
"We can focus on our job and OneRoom is just working in the background automatically," says Waterworth. "There's no real way to get user error. We have a large staff and we don't have one person designated to do this—we all do it. It's such a simple system we just set it up on the website, tell it what day and time to start, and we're done."
In the rare instance that a Krause employee has required customer support, OneRoom was there to help. "It's been a very, very quick turnaround," says Waterworth.
Tangible Results - Considerable Call Volume Boost
Since implementing OneRoom across its four funeral homes, Krause has seen a 25 percent increase in call volume. "It's probably due to a combination of many things," says Krause, "but we've promoted the fact that we have live-streaming capabilities. That may be giving people a reason to pick us over other funeral homes."
Waterworth agrees. "A lot of other funeral homes are offering live-streaming, but they're using Facebook Live or YouTube," he explains. "OneRoom is a lot more professional. We don't just take our phone out and put it on a tripod. We can offer families something that's higher caliber than what other funeral homes are offering.

More Agile Than Ever
"I look at funeral service as something that constantly evolves and changes," says Krause. "And we need to constantly be looking at what we need to do differently because if we think that we now have all the answers, we're probably missing the boat somewhere."
When it came to live-streaming, OneRoom helped Krause get on board. "It's a good, easy-to-use product, and it's turnkey," continues Krause. "It helps to differentiate between those funeral homes that are world-class and those that are not." Krause Funeral Homes, now equipped with OneRoom, are better set up for success, no matter what the future may bring.