Case study: Krause Funeral Homes Connect More Families with a Simplified Live-Streaming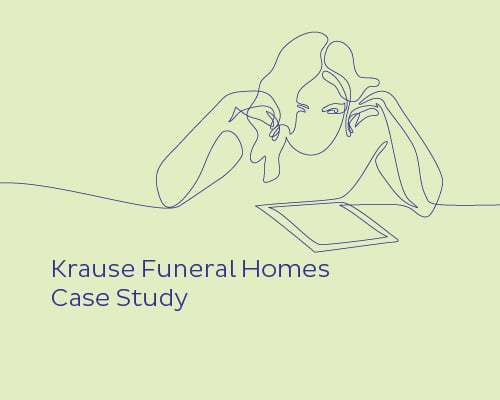 For over 80 years, Krause Funeral Homes and Cremation Services have served the greater Milwaukee region with professionalism, empathy, and a deep reverence for life celebrations. With approximately 80 employees spread across four locations—Brookfield, Milwaukee - Brown Deer Road, Milwaukee - Capitol Drive, and New Berlin—Krause offers funeral, cremation, and burial options, as well as grief services.
Additional signature services, including family follow-ups, floral deliveries, candle-lighting tributes, a grief therapy dog, the Krause motorcycle hearse, on-staff certified celebrants, among others, are offered to all families regardless of their funeral package. "We want families to feel that their needs are met, that they're cared for," says Jacob Waterworth, manager of operations and funeral director. "They're not just another number to us."
Krause team members are also embedded in the community. Many hold leadership roles and volunteer at local churches and hospices. Others have served as presidents of the Funeral Service and Cremation Alliance of Wisconsin, helping create the state's pre-need legislation. In short, Krause employees are dedicated to serving families both inside and outside the funeral home.
When COVID-19 hit, imposing travel and gathering restrictions, Krause had to adapt its operations, while still executing superior service. In March 2020, Krause turned to OneRoom for live-streaming and recording capabilities that safely and reliably brought families together for life celebrations, no matter where they were located.
In this case study, we learn how Krause uniquely positions customizable live-streaming experiences to families, while also leveraging OneRoom to deepen relationships with the community outside of funeral ceremonies and gain a business advantage. Furthermore, we explore the lasting impact of live-streaming technology and how, armed with OneRoom, Krause is more agile than ever.
"OneRoom is a good, easy-to-use product, and it's turnkey," says Mark Krause, president and funeral director. "It helps to differentiate between those funeral homes that are world-class and those that are not."
Read the full case study and learn how OneRoom can help your business.
Case study overview
Challenges
Implement live-streaming and recording technology that's automated and reliable
Gather families and loved ones in the wake of COVID-19
Solution
Install OneRoom, multi-camera solution at all four Krause locations
Uniquely position a customizable live-streaming experience to families
Results
Hands-off reliability
Measurable impact and insights
Deepened relationships with the community
Gained a business advantage
What's Next?
Live-streaming capabilities beyond the pandemic
Better positioning to digitally adapt


Download Case Study >