OneRoom's New Mobile App: If the Family Can't Come to the Funeral, the Funeral Will Come to the Family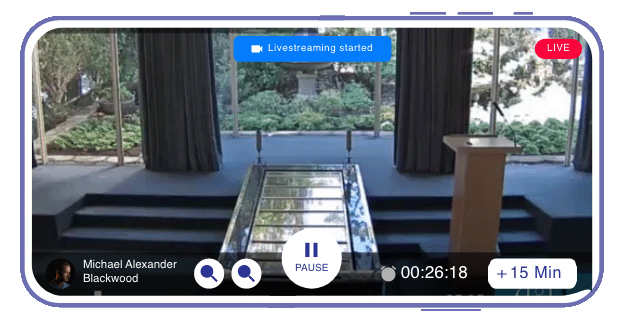 Global Funeral Streaming Leader OneRoom Leverages its Reliable Technology Beyond Funeral Chapel Walls
Las Vegas, TX and Auckland, NZ, December 2nd, 2021 - OneRoom, the leader in online funeral viewing, is proud to announce the release of the OneRoom App, the simplest funeral streaming mobile app available in the market.
The COVID-19 pandemic has challenged all funeral homes to adapt operationally while continuing to provide the best possible care and value for the families they serve. Accustomed to delivering exceptional face-to-face service, but with society becoming increasingly more "digital", they are expected to offer the same quality experience online. This can be complicated by the need to run services outdoors or in unfamiliar locations.
David Lutterman, CEO of OneRoom, says: "Funeral directors are not technology experts, videographers nor video producers, and shouldn't have to be. With the OneRoom App and our wrap-around support we minimise the risks and challenges of technology so they can focus on the family."
Leveraging over ten years' experience recording and live-streaming funeral and memorial services across the United States, Canada, Australia, and New Zealand, OneRoom recognized the need for funeral directors to reliably stream a funeral service from anywhere, without worrying about all the pitfalls of public streaming services.
With the OneRoom App, funeral directors are able to provide a private and assured experience to families for services held off-site - graveside, church or in the community, delivering an intuitive viewer experience with responsive 24/7 support.
The OneRoom App connects an Apple smartphone or tablet to the OneRoom Platform so, with stable 4G/5G data or wifi coverage, funeral homes can record or live-stream funeral services from anywhere. The app can also control a live-stream while in progress, giving funeral directors the ability to zoom in/out, extend, pause, or stop the recording.
If there are any network issues during the live-stream, a recording of the service is automatically stored on the mobile device. Once the mobile device is back in network coverage, funeral directors can easily upload the recording straight to the OneRoom Platform.
Holley Sowards, Service and Operations Manager at Einan's at Sunset Funeral Home has found an ideal funeral streaming partner in OneRoom: "If you're looking for an online funeral viewing solution, and you care about customer service, you need to go with OneRoom."
"The Funeral service is an essential part of the grief process. The care and sensitivity that professional funeral directors put into each service creates an experience that should be shared, without the limitations of distance, time or circumstances. At such an important time, family may be apart but they can still be brought together with OneRoom," concludes Lutterman.