Why Live-Streaming a Funeral Service May Make Sense for Your Clients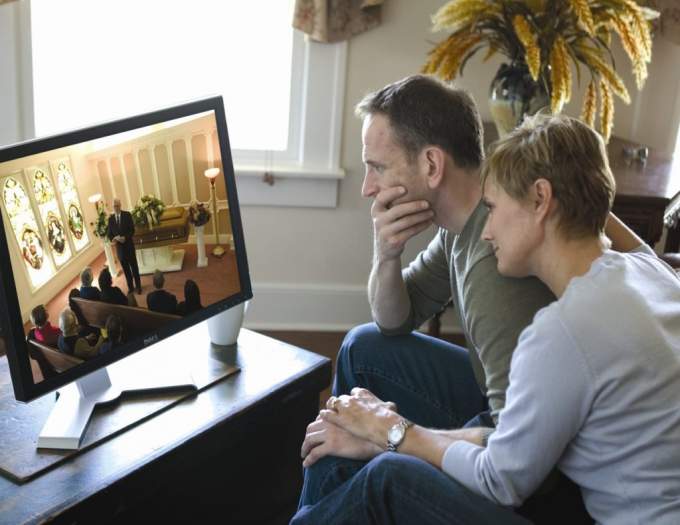 The grieving process is never easy. But that's why families and loved ones come together to honor the person who has passed and help one another through a challenging time.
While everyone mourns differently, the funeral service remains an opportunity for people to gather and collectively pay their respects. At OneRoom, we work alongside funeral directors to make this service as accessible and honorable as possible, while removing unnecessary stress from those who are grieving.
We believe live-streaming funeral services can make sense for your clients and for your business, and ensure the mourning process remains empathetic, human, and meaningful.
Brings People Together, Regardless of Location
Technology enables us to connect independent of location. Moreover, it makes sure life's pivotal moments are shared with those we love, no matter how old they are or where they live.
"Even though we live on the Gold Coast in Queensland and could not get to farewell our dear friend Clive," OneRoom attendees Jillian and Roy told us, "we felt like we were there with his wife, Audrey, family, and friends to say goodbye. The wonders of technology are truly positive at times like this."
In the wake of COVID-19, when safe travel has proved particularly difficult, a live-streaming funeral service can reassure families that those who can't physically attend are still able to be present and show their support.
"As families become more dispersed over the face of the globe, the need for OneRoom increases," said Gary, a funeral director. "We could not do without it as part of our professional service."
Removes Logistical Stress
OneRoom is a fully automated cloud-hosted service, empowering you to focus your attention on supporting the family and running the memorial smoothly without worrying about technological logistics.
We'll work directly with you to install the highest quality cameras and speakers throughout your funeral space, making sure we optimally place devices for the best views and sound. Then, once you have an arrangement discussion with the family in which you approve a digital guest list, all you have to do is schedule the recording/streaming through our web-based console. The entire process is safe and secure, and your online guests receive the same quality of service as those who are able to intend in-person.
Above all else, our goal is that your guests—whether physical or virtual—experience a well-run, impactful service.
Amplifies the Value of the Funeral Service
A OneRoom-recorded service is a valuable emotional asset that's not only shared with online guests but saved for the family to review at a later time. Like you, we understand that emotions run high throughout the grieving process, so we hope the recording allows your clients to rest easier knowing the moment was faithfully captured for posterity.
Furthermore, a recorded and shared memorial creates an enduring proofpoint for your service, encouraging people across generations to discuss your business' technological capabilities. "From a business point of view," continued Gary, "OneRoom allows us to have far greater contact with a wider group than just the immediate family, and the fact that it's a first-class product is also beneficial to our professional image."
Increases Empathy
Running a funeral service is an exercise in empathy. By using OneRoom, we hope you're able to better address your clients' needs, connect them with loved ones near and far, and ensure a quality of service fit for our evolving digital times.
While mourning is a period of tremendous pain, we believe your OneRoom-equipped business can contribute meaningfully to the healing process. As OneRoom attendee Grace said poignantly, "The ability to become one in our time of grief [was a great gift.]"