3 Reasons why OneRoom should be your Preferred Funeral Streaming Service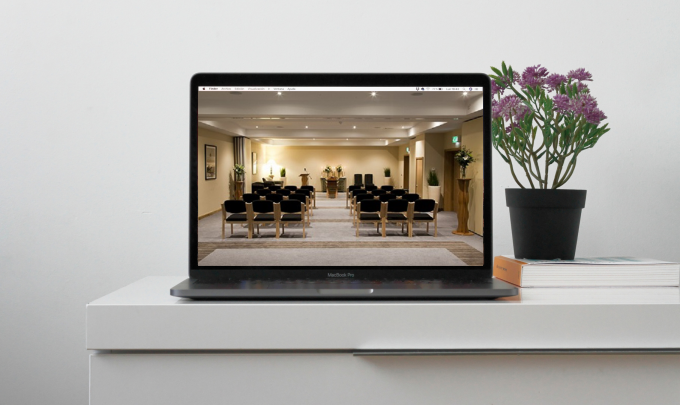 Funeral directors must organize an event that does justice to a person's life, while also bringing mourners together under highly emotional circumstances. This can be a demanding and delicate task, but when done well, funeral directors create a unique and personal blend of sorrow and joy, reflection and hope, strength, and meaning.
With live-streaming now an expected option for families, technology and streaming services are a necessary, but often stressful, element of a funeral service. OneRoom's set-and-forget system removes this worry. We can equip your funeral homes with an easy-to-use, secure streaming technology that unites your clients regardless of their location while avoiding the operational and privacy concerns of social media platforms. OneRoom will help make your service a more inclusive experience and empower you to do what you do best: Support a family in need.
1. Installed, Automated, Ready to Stream
At OneRoom, we want to do everything we can to make sure clients are benefitting from your exceptional service—and that means taking unnecessary technical stress off of your plate. Unlike other streaming services that require you to set up cameras, secure an internet connection, and juggle recording a service while also making sure it runs smoothly, OneRoom's solution is hands-off and automated, ensuring your time and attention is entirely focused on comforting the grieving.
2. Online Support Whenever You Need It
We believe funeral services are a time for simplicity and prompt, empathetic support. If you or your clients need personalized help, we'll be there for you.
As with any tech product, users may have questions about how it operates. Instead of your online guests sending inquiries your way, OneRoom encourages you to be there for the family members, while we ensure virtual attendees experience an exceptional digital service.
3. Control and Privacy for Peace of Mind
Grief is a personal and private experience, and we believe a live-streamed service should likewise feel intimate and secure. OneRoom allows your clients to make access as private or as public as they choose, while discreetly placed cameras share the experience without disruption or fuss.
Online guests can view the ceremony by clicking an embedded link hosted on your funeral home's website or sent over email. Where privacy is a reputational pain point for many social media streaming platforms, it's an opportunity for you to increase trust with current and prospective clients.
Moreover, the family can download the OneRoom recording and keep it for future generations to connect with their loved ones.
More Time to Focus on the Family
We know that mourning is an emotional process, a period to share grief, spread love, and promote healing. During your service, we want you to have more time to comfort families in need and leave the ins and outs of live-streaming to us. We'll help your online guests through a streaming memorial that's as equally as impactful as the one you lead in person.
Together, we can all experience a funeral service that is meaningful and memorable, no matter where you are.
Learn why live-streaming funeral services may make sense for your clients and if OneRoom is the right solution for you.